---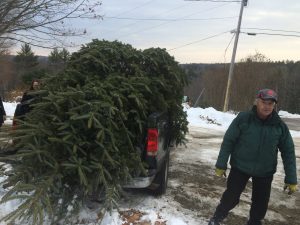 Building family traditions since 1994. Complimentary coffee, hot chocolate and cookies daily.
Tree package pricing starts at $20 and includes:
Free tree baling, (trees 8' and under)
Tree shaking to remove dead loose needles,
Drilling tree base for pin tree stands when needed,
Saws and,
Tree sleds to make carrying the tree to checkout easier!
Beautiful handcrafted wreaths in several sizes. Seasonal gift shop offering a nice selection of ornaments & home decor plus jams, jellies & pickles made on the farm.
Opening for the season November 27, 2019 and closing December 20, 2020
Annual Open House Weekend is December 5th and 6th, 2020.
---
Products
Choose n Cut
Balsam Fir, Blue Spruce, Concolor Fir
Retail
Gift Shop
Trees
Fresh pre-cut trees available
Wreaths
8 inch
12 inch
24 inch
Driving Directions:
Route 17 West between Readfield and Livermore Falls. Look for DOT signs plus additional signage.
---