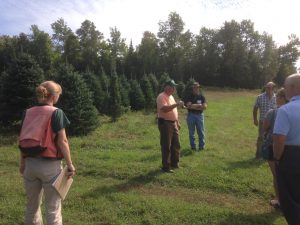 Meeting Locations and Times
Maine Christmas Tree Association holds membership meetings twice per year. The Winter Meeting is generally held in Augusta in January, and the Annual (summer/fall) Meeting is held in September. They are usually hosted by a MCTA member at their farm and will include field tours.
You do not have to be a member to attend meetings although you must pay a registration fee. It is suggested that you register in advance and reserve meal tickets as well as partake in all the activities, networking and socializing that take place at the meeting. For information on the next meeting contact the Executive Secretary, Joanne Bond at (207) 793-4658.
---
Maine Christmas Tree Association Meeting Schedule
MCTA 2023 Annual Summer/Fall Meeting
Dates: Saturday/Sunday, September 9 & 10, 2023
Location: Piper Mountain Christmas Tree Farm in Newburgh, ME
Registration: Registration Form on Resources Page click here
More Info: Call the executive secretary for info (207)793-4658
MCTA 2023 Winter Meeting
Date: Tuesday, January 10, 2023
Location: 2023 Maine Agricultural Trades Show, Augusta Civic Center, Augusta, ME
Registration: pre-register or on-site 8:30am to 9:00am
More Info: Call the executive secretary for info (207)793-4658
MCTA 2022 Annual Summer/Fall Meeting
Date: Saturday/Sunday, September 17 & 18, 2022
Location Day 1: Lakewood Inn Restaurant (76 Theater Rd, Madison, ME)
Location Day 2: Quinn's Christmas Tree Farm (290 W Ridge Rd, Cornville, ME)