---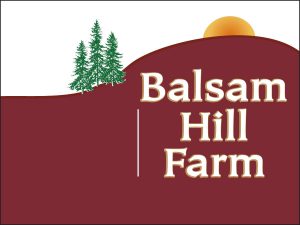 Welcome to our farm! We are very pleased to be opening for the first time during the 2020 holiday season. Balsam Hill Farm is a no-spray Christmas tree farm that follows guidelines for natural growing practices. The tree farm is relatively new and most of it is still developing. We currently have over five thousand trees planted which are at various stages of development. We have decided to open this year with a limited number of trees available that are both fresh pre-cut and choose-and-cut. This season, our tree availability ranges from table top size up to eight feet high. Options for taller trees will be available as the farm matures. With so much going on in the world right now, we have decided to offer a "value" selection of Christmas trees. They will range in price from $20.00 up to $40.00. We hope you give Balsam Hill Farm a try this holiday season. We look forward to meeting all of our new customers and hope that we can become part of your holiday tradition for many years to come.
Centrally located in Hope, Maine. Only minutes from many mid-coast communities.
Cash or your personal check gladly accepted.
Cutting saws, loading assistance, and twine for you to secure your tree are all available.
---
Products
Christmas Trees
Fresh pre-cut Balsam Fir
Choose-and-cut Balsam Fir
Retail Products
Fresh-made wreaths
---