---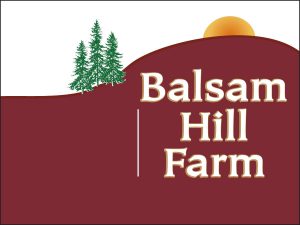 Welcome to our farm! We will be opening for the 2022 holiday season on November 25th. Everyone at the farm is looking forward seeing our customers and friends again. Balsam Hill Farm is a no-spray Christmas tree farm that follows guidelines for natural growing practices. While the tree farm is relatively new and most of it is still developing we are pleased to offer a selection of trees that will fit most tastes and preferences. Currently there are over eight thousand trees planted which are at various stages of growth. We will be open again this year with a limited number of trees available (650) that are both fresh pre-cut and choose-and-cut. This season, our tree availability ranges from table top size up to ten feet high. New this year at BHF, we will be offering a "Tot Lot". A special selection of fragrant Balsam Fir Christmas trees sized perfectly for our younger customers who want to experience the joy of the holiday season with a personal touch. Due to the popularity of the Unique and Unusual ("Charlie Brown") field last season, we will once again be offering a selection of Christmas trees from that field. Please feel free to call the farm with questions or comments. Our informational message is updated often with information as the season progresses. You can reach BHF at 207.975.4343. We hope you give Balsam Hill Farm a try this holiday season and look forward to seeing some familiar faces at the field as well as meeting more new customers and making new friends. All of us at Balsam Hill Farm look forward to becoming part of your holiday tradition for many years to come. Happy Holidays!
Centrally located in Hope, Maine. Only minutes from many mid-coast communities.
Cash or your personal check gladly accepted.
Cutting saws, loading assistance, and twine for you to secure your tree are all available.
Sorry, but chainsaws cannot be used at the farm.
---
Products
Christmas Trees
Fresh pre-cut Balsam Fir
Choose-and-cut Balsam Fir
Retail Products
Fresh Maine-made wreaths and swags
Tree Stands
---